We all see magazines showcasing spectacular Christmas decorations but who can really afford all that? When you want a home that looks like it stepped out of the pages of your favorite home decorating magazine, without the high price tag attached, these are the products for you. Each of these 10 budget-friendly Christmas Decorations is big on beauty but low on cost. Finally, beautiful decorations that you can afford on any budget.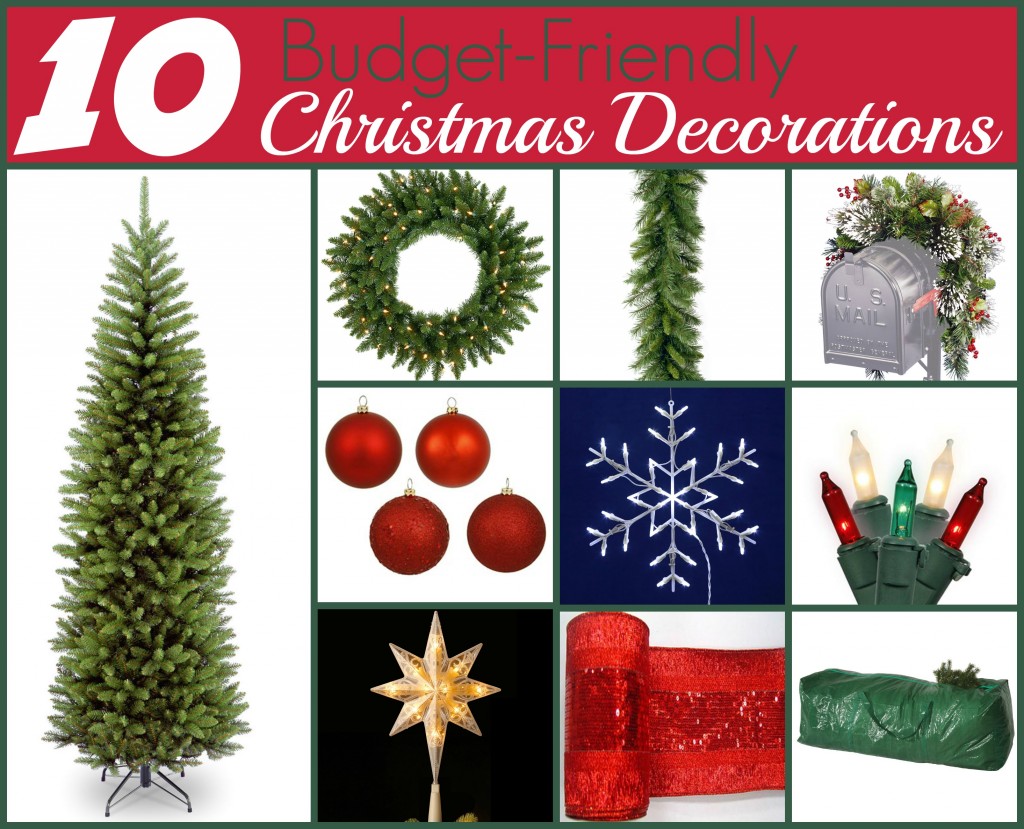 1. 7.5 Foot Kingswood Fir Pencil Tree — $99
This artificial tree is not only budget-friendly, it is also incredibly beautiful. This tree stands 7.5 feet tall and features a dense foliage with a small footprint. Don't let the price fool you — this is a top-quality tree. If features hinged branches that make assembly and storage easier than ever before.
2. 20-Inch Camdon Fir Wreath — $30
Every home needs at least one Christmas wreath and at prices like this, you may want to get more than just one. This 2-inch wreath features 1100 PVC tips. It even comes pre-lit with clear mini lights. Just add a beautiful handmade wire-edged ribbon bow and you will be ready to proudly display this wreath for the holidays.
3. 9-Foot Winchester Pine Garland — $20
Swag your fireplace, line your cabinets, and decorate architectural ledges with the 9-foot Winchester Pine Garland. This garland comes both unlit or pre-lit with clear lights and measures 10 inches wide. With so many ways to use it, you may want to stock up.
4. 3-Foot Wintry Pine Collection Mailbox Swag — $20
Instantly enhance your curb appeal for the holiday season by hanging this gorgeous swag over your mailbox. This 3-foot swag features PVC tips that are lightly flocked for a snow-dusted look.
5. Plastic Shatterproof Christmas Ball Ornament — $24
Decorating an entire tree beautifully is easy when you start with the Plastic Shatterproof Christmas Ball Ornament set. This 24-ornament set features ornaments in four different finishes. Just pick your color and you will get an assortment of ornaments that will look stunning on any real or artificial Christmas tree. Each 24-piece set costs just $24.
6. 16-Inch LED Light Snowflake — $16
A single snowflake hanging in a window is all you need to make your home look beautiful this holiday season. A simple snowflake structure is pre-lit with beautiful clear LED lights. Hang one from each front-facing window in your home.
7. 46-Foot 100 Mini-Light Strand — $18
Illuminate nearly anything in your home with Christmas lights. This 46-foot light strand is available in many different color options and can be used to wrap a Christmas tree, outline architectural features of your home, or fill a clear vase. The possibilities are endless.
8. 11-Inch Bethlehem Star Tree Topper — $13
Finish off your Christmas tree with a spectacular, pre-lit tree topper such as this Bethlehem Star Tree Topper. The warm white LED lights make this topper glow long all night long. And at a price like this, you won't even have to think twice about placing it in your cart.
9. 10 Yard Sequin Weave Christmas Ribbon — $35
A little bit of ribbon can go a long way toward decorating your home for the holidays. This spool of ribbon is big enough for multiple handmade bows. Each one contains 10 yards (30 feet) of top-quality wire-edged ribbon.
10. Tree Storage Bag — $34
Ok, this may not be the most exciting Christmas decoration on this list, but it will help you keep your artificial Christmas tree in good shape for many years to come. Protect the investment you made on your artificial tree by storing it in a bag specifically designed to keep it safe in the off season.